Hey, here's a quick update on what's been happening since the big 0.50 update we had at the start of this month. Not seen it? Here you go.
Simon and Ruairi are working through some of the existing bugs. One of the most interesting ones has been the starvation bug.
They'd then starve as their bodies reserves got eaten up. If you've played and had a starvation death, check how sweaty your colonists are.

— Simon Roth (@SimoRoth) September 15, 2015
They have also been working through the bugs you have been reporting. If you've noticed issues with running the game follow this guide and then get in touch.


Solar Event Warnings
You will now get solar event warnings. This means you'll know when there will be some interference with with your electric equipment. look out for the emails with the sun icon.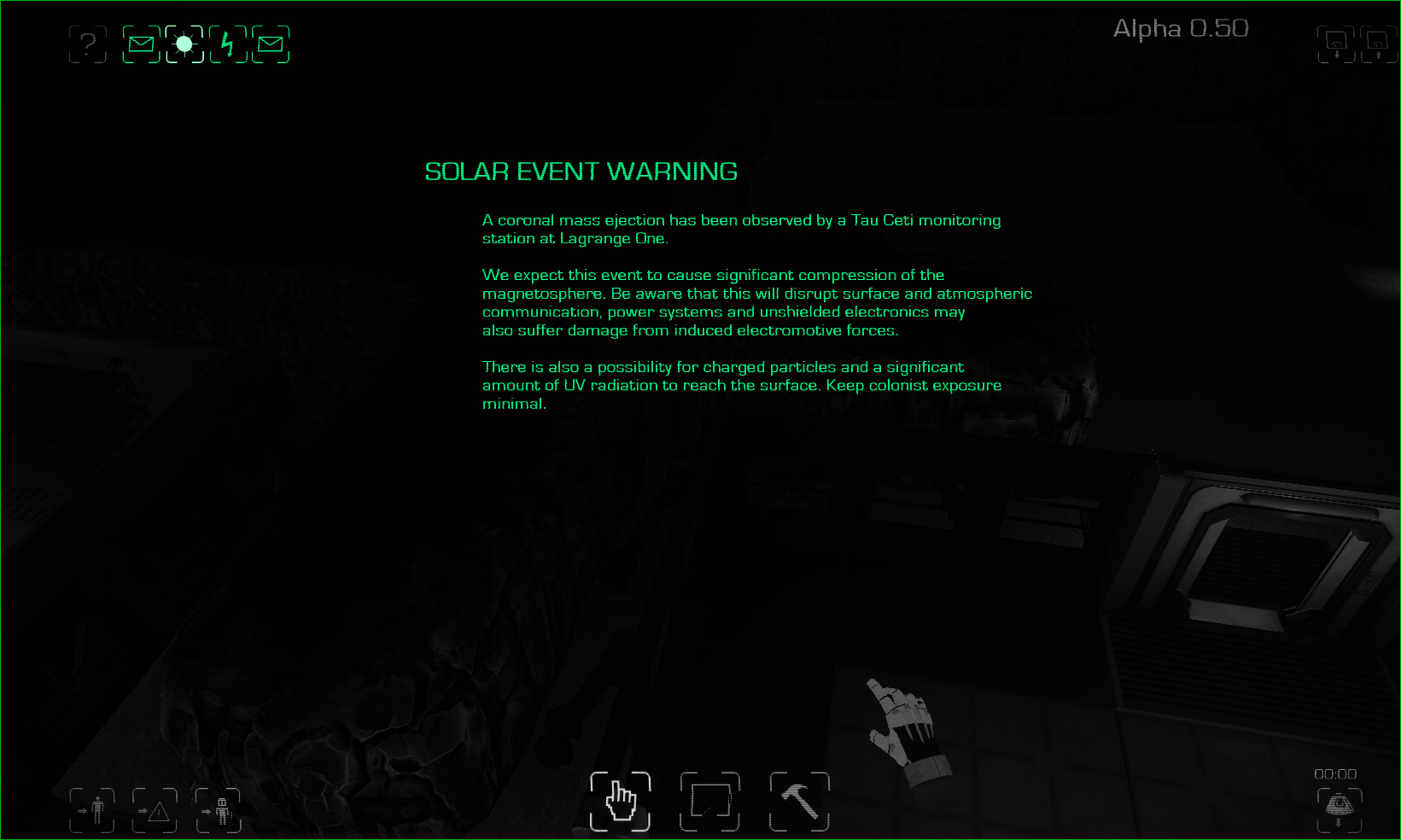 64bit
There has also been a change in how the game uses the hardware of the user. Maia now has both 32bit and 64bit versions, Steam will detect players hardware which means those using 64bit can get improved performance.
Tutorials
Since the latest update Maia's player numbers have grown. We thought that it might be a good time to make some little tutorial videos. Here's the first one. Let us know what you think and if there's a particular topic you would like to see a video on.

YouTube Videos since the Update:
Hugh Jeremy
Hugh, Who's been working with us part time did a short series on Maia.

Munchmo
Munchmo made a update video, he loved the new repair robot.

Erased Citizens
Erased Citizens have made a first impressions video with some of their thoughts on where the game is at the moment.

Steams Since the Last Update:
SirTwiggy (joined by Simon)
http://www.twitch.tv/sirtwiggy/v/14884156
Rand118
http://www.twitch.tv/rand118/v/15369379
KirrusT
http://www.twitch.tv/kirrust/v/14272763
Also, Simon was recently on the SteamLUG podcast. It's not live yet but when it is we'll let you know.
Steam Forum
Maia Forum
Maia on twitter.