Maia 0.58 has arrived. This update brings new AI systems, multiple base support, deepened simulation, procedural colonist written music and sci-fi and hundreds upon hundreds of bug fixes. Here's a video of me playing the latest build:
Emergent-cy
Colonists are now able to use their skill sets and experience to plan tasks and directly consult players on the running of the colony. From complex base management and room planning, to scientific excursions to the surface, torching failing crops and even presenting their mood-reflecting avant-garde electronic music or their desperately clichéd (procedural) science fiction writing. These emergent choices add a little extra challenge, depth and flavour to the game.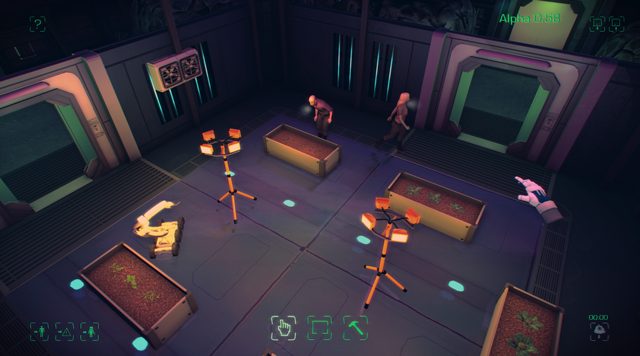 Multiple airlocks and even rudimentary multiple bases are now supported, allowing for much more ambitious building projects and paving the way for colonising the game's massive maps. Colonists will now take much greater care to manage their suit usage, planning their journeys around efficiency and safety.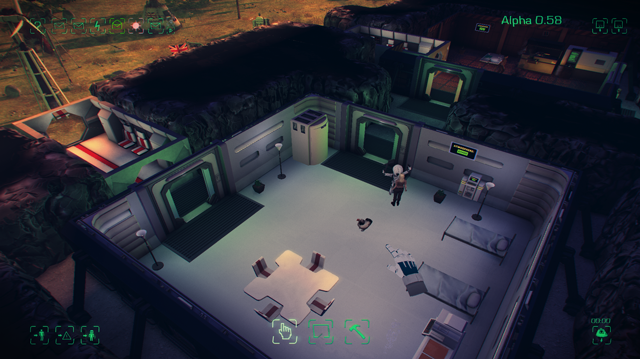 Thinking Machines
Robot batteries now run down and will need to be replenished at a robot recharge station. A robot on low power will become sluggish and throw more fussy tantrums, upsetting the colonists. The IMP AI has had a major rewrite to re-prioritise their efforts around digging and materials collection. Their new detailed mouse over info-tips presenting a clearer picture of their robotic planning process.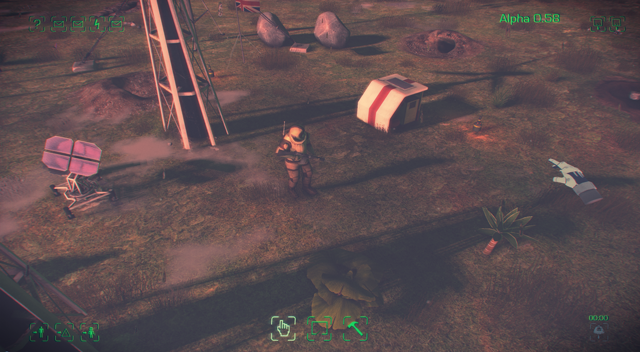 Feed the rot. Rot the feed.
Crops are now susceptible to fungal blights, which spread based on temperature and maturity of the plants. These diseases can transfer to nearby hydroponic planters and wipe out plants of the same species. Growing varied crops and carefully considering placement of the growers, lights and heating adds new depth and challenge to food production.
Neighbors (become good friends?)
The creatures in the world will now migrate around the map to expand their territories and seek out new food sources. If the animal's new territory includes your base you will receive a warning email, giving you more time to consider defences.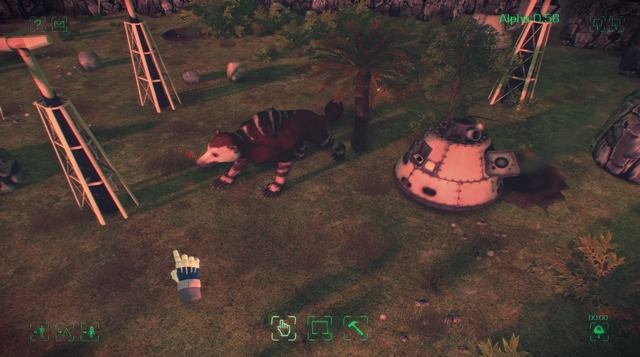 Precipitation solution
Food and Water systems have been tweaked in many ways to reduce issues around dehydration and starvation. These range from the new condenser unit that can provide an efficient water source in any room, to new colonist crop anticipation priorities, down to small planning tweaks in the storage room reducing the chance of essential items being buried in mineral ore by a careless robot.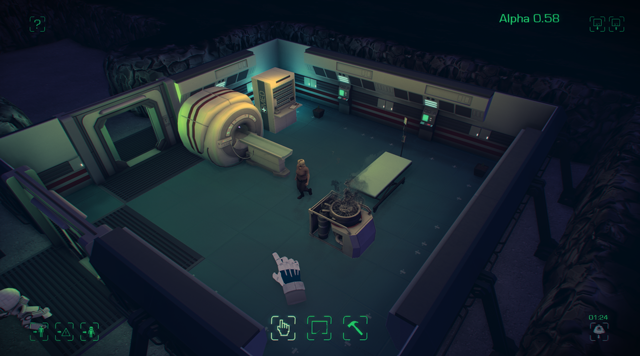 Notable changes include:
Tutorial start base is warmer and has more atmosphere to take the pressure off new players.
Base manifest now lists where colonists are going and more useful information.
Added new emergent Colonist Suggestion emails
Added Robot recharge station.
Robots now move slower if they run low on charge.
IMP AI rewritten.
IMPs should no longer stand still when given unreachable orders.
IMPs should no longer start conversations when carrying things, which lead to bugs.
Creatures now migrate around the map based on habitat.
Timmy the dog less likely to get stuck in walls. Sorry about that Timmy.
Warning emails for creature migration added.
Politeness no longer applies to using airlocks.
Total rewrite of colonist airlock AI, including support for multiple airlocks.
New Condenser object added.
Creature Sound Lure added.
Crops can now catch blight if in overly warm rooms and not regularly harvested.
Colonists with medical skills now wear white shirts.
Colonists no longer walk through locked doors
Colonist food growth/preparation cycle rewritten to ensure colonists plan to create food, reducing starvation.
Colonists can now use the smelter if it is left with minerals. However this risks fire as they are incompetent.
Greatly reduced instances of colonists failing to build outside.
Adjusted water barrel interaction points, leading to fewer interaction issues.
Storage room tweaks to allow for better access and more efficient packing.
Fix for rare case where cursor locked up when quitting to main menu.
Medical Beds can now catch fire.
Standard Beds can now be repaired after catching fire.
Glitch effect during solar flares is now more obvious.
Mouse over info-tips optimised. No longer update too fast to read.
Several info-tips rewritten to be more useful.
Some animation length fixes.
Colonists will now mention it in emails if they are dehydrated.
Utility Robots act on repairs before colonists.
Workshop table now sparks when damaged.
Reduced tendency for Workshop Table to get damaged.
Illnesses now take longer to progress.
Chicken AI improved. They should spread out more and show better flocking behaviours.
Colonists using the scanner will no longer send multiple diagnosis emails.
Tendency for healthy hypochondriac colonists to use the medical scanner reduced.
Medical scanner cycling more consistent. Cooldown added.
Fix for Bulkhead door disappearing when upgraded through research.
Improved graphics for Body Storage Unit.
Twilight Zone mission tweaked to account for new food system.
Additional starting text added to missions.
Repair sound added to make it easier to tell if colonists are fixing something.
Room atmosphere simulation optimisations
Miscellaneous spelling and grammar fixes.
AI for colonists taking ownership of objects rewritten to be more robust. Stops colonists who pop their clogs on the job from never relinquishing control of items.
Communications tower build priority changed.
Fixed building materials giving three materials for every one picked up.
Adjusted interaction points for Storage Room so that building materials could be taken off every wall.
Expanded clickable area on multiple objects to make them easier to select.
Solar Flares reduced.
Storage room objects moved to create more space.
Engine rendering optimisations
Changes to save system to store more data.(old saves are no longer compatible).
Mission hud now correctly resets.
New art assets for several models.
Fix for rare save-file issue where creatures had burrowed off the map and would cause instability.
I hope you enjoy this update, please let me know what you think over on the Maia forums or on Twitter.
You can follow development on dev.maiagame.com. Maia 0.59 will be out at the start of November, with Maia 0.60, our first Beta build out on December 13.