It's that time of year again! For a holiday? No! What's a Holiday?! It's time for another Maia update of course.
Hands-on.
Colonists are now able to hold items whilst walking around the base allowing them to telegraph what task they are hoping to do next. A colonist with a hammer may be on their way to build some room segments, one holding a wrench on a build or repair job, rations the food station or storage, and a colonist holding a glow stick during a blackout might just be afraid of the dark.
Intentional bugs
Insects form a critical component of any food chain, and on Maia the rule holds true. The new flying insects will provide a food source for the smaller alien creatures, allowing them to broaden their diet and grow quicker. The bugs use bioluminescence for mating, so exterior base lighting might attract their attention and cause them to swarm your colonists.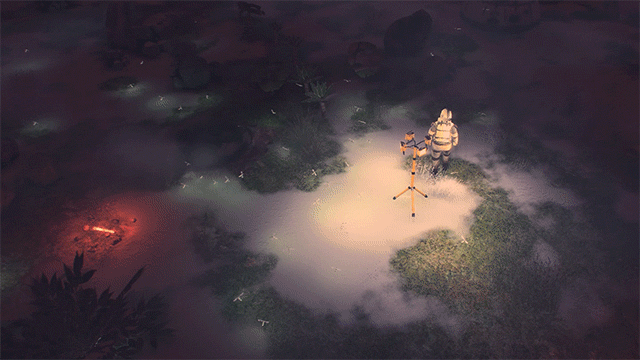 The migration and breeding of the alien life has changed to reflect this new system. The balance should reduce the risk of equipment destruction or alien incursions to new bases, but increase it substantially later in the game.
Physical Research
Raw research data is now represented by physical data tapes in the world, allowing colonists to stockpile and store information they have learned about the planet ready for it to be crunched into new technologies and techniques in the research lab computer systems. Just be careful to keep them dry and safe, magnetic tape is flimsy and extremely flammable.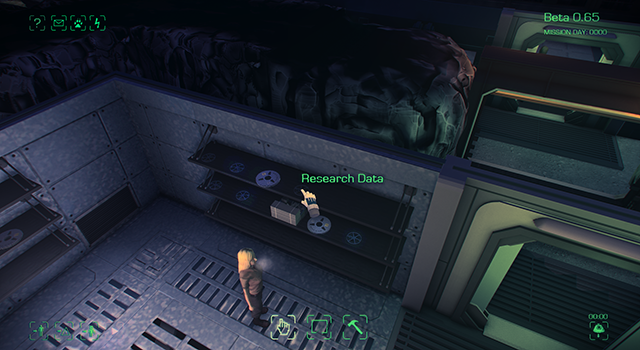 Colonist variation
As well as adding several new colonist visual models into the game this update brings new psychological differences to your colonists. The personality of a colonist can effect their motivation, moods, how they interact with others and even their susceptibility to certain mental conditions. Picking the right traits might just be a matter of life and death.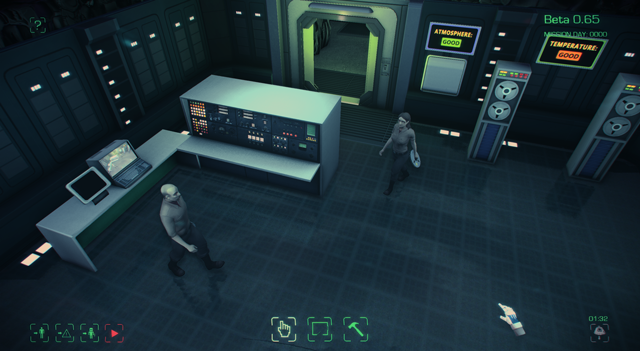 Announcements
The base system will now announce many more of the incoming issues and disasters facing your colony. Many sounds have been added or tweaked in the game world and user interface to give better feedback and a more balanced soundscape.
Performance Changes
New cache optimisations, path finding changes, C++ code modernisation and threading balance has improved CPU performance for large bases up to 40%.
Other Notable Changes:
Stand alone missions extended
Chickens set for destruction will be prioritised for eating over others.
Chickens respond to player by ejecting feathers.
Utility robot is now much less likely to immobilise itself in first person mode.
Text crawl effects reinstated for new emails and messages from colonists.
Updated (deliberate) glitching effect on infotips of objects hit by solar flare eletromotive effect.
Clean up of solar arrays and geothermal infotip generation.
Meteor strike lighting tweaked.
Communications tower now repairable by robots.
Megacephalagia initial migration randomised to prevent email spam.
UI made more responsive.
New item descriptions.
Photosynthesis more accurately linked to light wavelengths.
Work light power usage reduced according to what colour the light is.
Colonists walking and running tweaked. Fix for stamina and stop-start running.
Movement tweaks to reduce pauses waiting for doors.
Colonist social needs reduced so they waste less time.
Colonists can turn faster in suits to prevent them getting stuck walking in circles.
Starting base has a wall screen to hint to new players they should be using them.
Snap-to-grid key now rebindable.
Bulkhead doors and airlocks are more effective at stopping cave ins.
Plant blight spreading behaviour changed (If you get a lot of blight, plant less crops!)
Fix for object selection issues when tracking or when setting colours.
If you want to see more changes to the game as they go live. Get on the Development branch on Steam. You can also watch as I update the repo on the development site.
As always I am very open to feedback and will fix bugs as we find them or they are reported. If you are enjoying playing the game, please remember to leave a Steam review as they drive sales which allows further investment in new content and development.
<iframe src="https://store.steampowered.com/widget/252250/" width="646″ height="190″ frameborder="0″></iframe>