Maia 0.63 is ready. This update brings a lot of new features as well as an overhaul of the game's simulation and balance. I want to say thank you to everyone who gave feedback over the summer, it's helped me improve the game significantly. Here's a video of me playing the latest build and showing off some of the new features:
AWOL
If treated poorly enough, colonists can now leave the base and head off to their inevitable deaths in the barren wastelands of Maia. Fulfilling food, rest, social needs and building an aesthetically pleasing base will all be important to keeping them loyal. That said, some colonists are just cowards, so don't feel too bad about them.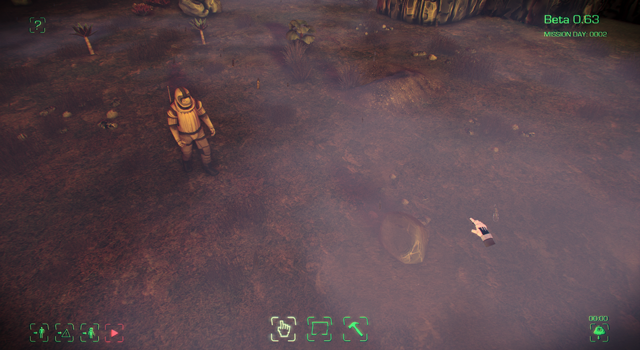 High Energy
The games bodily simulation of the colonists has been made more accurate with heat loss through convection, conduction and radiation in different mediums. Colonist metabolisms are finer tuned with effects from sweat, to kinetic energy losses affecting them as they go about their days. Keep your colony warm and sources of water abundant to keep them happy, efficient, and breathing.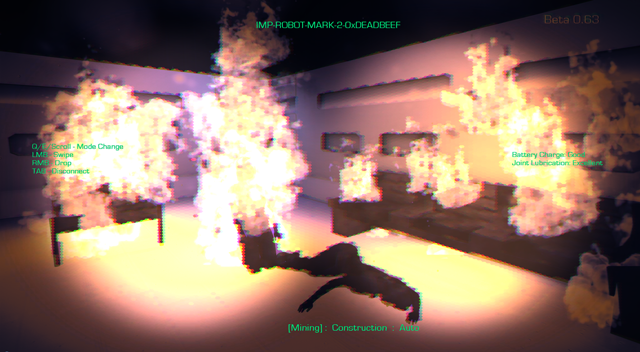 Maian Time Slip
The day length of Maia has been made longer. This will give your colonists more time to carry out essential.. and less essential tasks, and take the pressure off growing colonies. Conversely with the slower simulation of the climate and weather, and longer nights, solar and wind generation will now be more challenging to keep online, requiring a greater focus on efficient storage and energy management.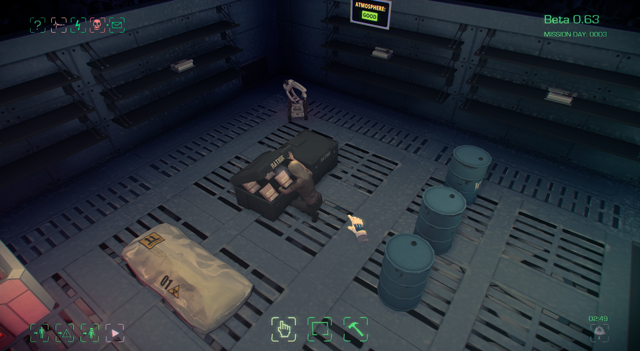 Notable Changes since 0.62:
IMPs no longer get stuck sparking.
IMPs will now place minerals in the smelter. They cannot start it themselves however so you will have to manually – or wait for a colonist.
Player now receives an email when they lose all their IMP robots.
Flywheels can be clicked on to be put into charge only mode. Allowing you to store energy for emergencies.
PAUSE BUTTON added to the UI. Pausing no longer causes glitching, is compatible with the building UI. (Don't get too used to the bottom left placement, it's going in the top right soon)
UI changes to hide text and mouse attached objects when hovering over buttons.
Mouse now sits properly infront of UI items.
Condenser now has visible running water when clicked on or used.
Minerals make dust clouds when dropped or clicked on.
Workshop table, bodybags, foot packets, grass and other items now have click reactions.
Alien plant samples have a nice mist effect.
Numerous tweaks to AI and balancing.
Large amounts of food creation balancing.
Food preparation bugs fixed.
All food KJ calculated more accurately based on the correct breeds and in many cases have increased substantially (potatoes and chickens are over double what they were).
Ration packs are now far more likely to be built.
Ration packs can be opened by colonists and the player.
Colonist standard and binge meal sizes increased.
Condensers now advertise the high level "water purification" need (like the solar stills) so are better prioritised when building.
Many small optimisations and a huge amount of code cleanup. Potentially fixing a lot of bugs and likely preventing future ones.
Missing rain fixed.
Food trays appearing "unbuilt" issue fixed.
Colonists now simulate heat radiation and conduction due to convection on their skin.
Colonists put less direct heat into a room (as roughly 20% is put into kinectic/mechanical energy)
Fix for missing molerat animation causing a crash.
Smelting priority tweaks.
Stockpiling bugs fixed.
Creation of hydroponics planters priority increased.
Bug fixed on determining food creation priority need.
Colonists with suitable skills (construction) will be able to produce twice as much building materials from the smelter.
Colonists are less likely to hoard materials.
Colonists can now binge on food if they need to make up more than one meal. This means they can eat 10000kj of energy rather than the usual 6000kj.
Colonist energy needs slightly balanced to account for heat generated by food digestion.
Wind turbines will take more damage before advertising repair task to colonists (although will repair bots will maintain the current level)
Fix for black tiles being left when a door is removed.
Doors sat in the middle of rooms will now automatically be set to be destroyed by colonists.
Fix for missing text on the Fusion and Fission reactors.
Fix for KW/W mixups.
Fix for IMPs not picking up fossils.
Desks now moveable by colonists.
Fix for colonists not filling up the storage room shelves with raw food once a prep station has become full.
Smelter now advertises it's need for minerals sooner after being emptied. This should speed up construction of building materials marginally.
Stockpile settings for building materials lowered so people get less stuck if they don't realise they should be managing it.
Stockpile settings panels now comes up when mousing over a room. Hopefully people will realise it exists now.
Window sizing bug fixes.
Full screen now works far better.
Rendering quality improved.
That's all for now. If you like these updates be sure to drop us feedback via Twitter and Steam reviews. I'd really love some up to date Steam reviews.