Maia 0.64 is here! Cats, Dogs, Hurricanes, GUI, detailed new AI and lots of optimisations and fixes! Here's a quick video showing off some of the cool new things.
MEOW
Firstly we have the cats. Based off the pets of our Kickstarter backers, our feline friends have travelled across the cosmos to keep us company (when they feel like it), damage furniture and sleep in a lot in inconvenient places. They will, very occasionally, socialise with the colonists and boost moods around the base.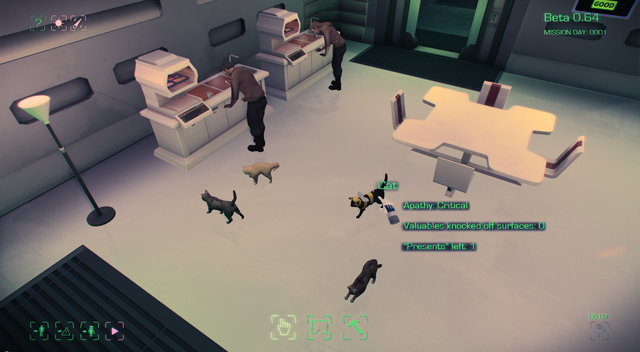 WOOF
The dogs make themselves a little more useful. Defending the territory of the base, they will follow patrol routes, noting weaknesses in the bases defences as they go, iterating and improving their coverage. They will alert and then defend against alien incursion, barking and growling at any intruder. They can also be given move orders which they will (sometimes) obey and integrate into their guarding behaviour.
It's not all work, they will also distract colonists for tummy rubs, boosting moods and fulfilling the social needs of the lonely. Whether the dogs make friends with the cats or not is up to the cats, and so is a rare and unpredictable occurrence.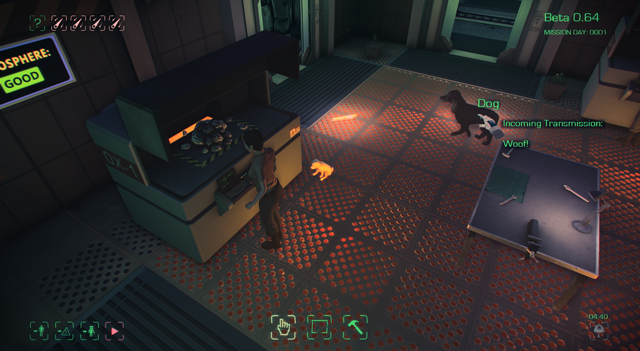 RAWR
The alien creature AI is now more dynamic, with all species now having social structures and breeding patterns. They now suffer from fear and panic and so can be forced out the base using your dogs to herd them, rather than using the weak and unpredictable colonists.
WOOSH
Hurricanes can now make landfall and threaten your bases. These catastrophic events will build up over time, tearing apart equipment on the surface and shutting down wind and solar generation. They will also leave a lasting effect on the weather simulation, leaving drastic pressure changes that will take weeks to normalise. On the bright side you'll generate a lot of wind power before the turbines go into lock down and/or explode.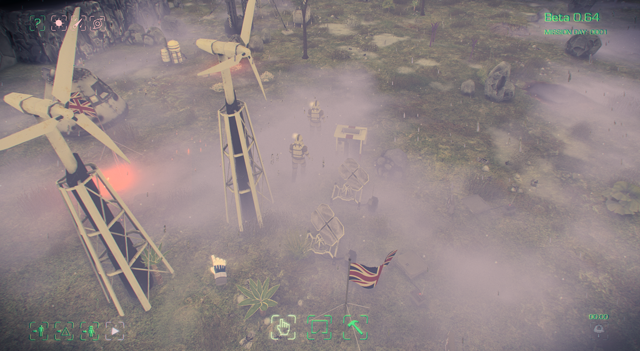 CLICK
There are many changes to the UI, but a key one is the new finder panels opened by clicking the colonist, warning and robot buttons on the left hand side. These provide an easier way to find a specific colonist, robot or problem with the base. The warning panel now focuses on many of the smaller issues that a base may face, allowing you to isolate and fix smaller issues before everyone dies in an embarrassing manner.
Autosaves are now in game, so you will always have a base to go back to when you "accidentally" murder everyone in your charge by locking them in a room with no doors and a hundred angry chickens.
TWINKLE
The lighting engine has had some major rewrites and optimisations. This will allow for more extravagant base designs at higher and smoother frame rates. Remember, your choice of lighting will have a noticeable impact on the moods of your colonists.
Many shaders and effects have been tweaked or in some cases rewritten, leading to more natural lighting and more aesthetically pleasing visuals.
Beyond lies the.. WUB
The dogs aren't the only woofers you'll be hearing in 0.64! We've implemented many new sounds and reworked some of the existing ones to add more feedback from the game and realistic detail in the soundscape.
Other Tweaks:
Over-ripe crops will suffer less blight progression.
Airlock cycles and new door models.
Wall heaters now turn off at 26 rather than 30 degrees.
Several late game food generation issues addressed
New font tweaks for better shadows and easier reading.
Text button active areas better fitted to buttons.
Several texture compression artifacts fixed.
Screenspace raytraced reflections corrected.
Creature territory systems optimised
Events and dangers generation balanced and tweaked for longer games.
Thousands of small optimisations and code modernisations.
More temporary names in the colonist generator (Kickstarter names list coming soon!)
That's all for now. I will be back soon with more updates, content, fixes and softly spoken update videos. Get yourself on the Steam development branch to get them as they go live. All feedback is appreciated!